If Disney Cartoons Were Historically Accurate
And it's things like this that make people be even more mistaken about history.
I know it's Cracked an' all, but… That's what you get for expecting something intelligent AND funny, I guess.  
On this day in 1430, Joan of Arc was taken prisoner. She was sold to the English for 10,000 francs. Richard Beauchamp, Earl of Warwick kept her guarded day and night. He believed her to be an evil witch- 'the disciple and limb of the fiend'. 
image: Paul Delaroche, Joan of Arc in Prison, 1824 
Q:That anon must work for Yahoo or something. They just sent me a message about my reply on their ask for you. If you let me, I'd like to explain to them that we're not judging Yahoo out of nowhere, just cause they're trying to touch on precious Tumblr. You just need to look on their past, Yahoo has a history of ruining great new ideas. Really, just read anything about what happened to Flickr. They can't handle Tumblr. And if we dislike this deal, we SHOULD bitch about it and let them know.
exitstonowhere
Just putting this out there (since one can't reply to anon messages, ahem).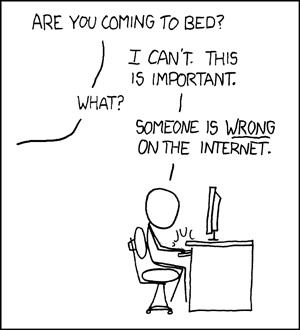 Saint Olga (of Kiev)
It is a strange historical twist that the first "Russian" woman to be canonized in the Orthodox Church was a Viking warrior princess who spent much of her life as a pagan.
Olga earned her sainthood by becoming the first member of the house of Riurik, the dynasty that ruled European Russia and parts of Ukraine and Belorus for more than seven centuries (860s – 1598), to convert to Christianity. But the role of this battle maid in the spread of Christendom to the eastern Slavs is only part of her remarkable contribution to the history of Eastern Europe.
You can read the rest of the story about her here.
image: Baptism of Princess Olga by Sergei Kirillov. HQ
Q:Holy shit, you are beyond paranoid with this Yahoo buying Tumblr thing. If you don't like it, stop bitching and complaining and actually do something about it.
Anonymous
I'm sorry I posted TWO text posts about it and ONE reply. (The purpose of both was to raise awareness and feel the pulse of the rest of the community) 
And I did sign the petition which is the most us mortals can do.
And, again, I am sorry that I feel like two and a half years of my (and other people's) effort and passion are probably going to waste if tumblr shuts down, or becomes an ad clustered quasi social network (judging on previous experience with similar acquisitions, not predicting the future or overly panicking). 
If you are no longer satisfied with 99.9% of original-content, personal-free posts, feel free to hit the unfollow button.
Hex
History is a wheel, for the nature of man is fundamentally unchanging. What has happened before will perforce happen again.
1,000-year-old church discovered under Lincoln castle
Experts believe that the church is one of the most important archaeological finds in Britain, as it pre-dates both the castle and the Norman Conquest.
Speaking of St Francis - it is almost impossible to find a decent modern-ish painting of him that doesn't look like a Disney screencap. When did we become so literal in our art? And why?
Saint Francis of Assisi (1181–1226) is arguably the most famous animal lover of the medieval period in Europe. The Franciscan friar was said to preach to birds and animals and release captured animals from traps.
There are many legends about the saint, the most famous being that he once convinced a wolf to stop terrorizing a town and eating the livestock. Saint Francis was said to have "the gift of sympathy" for animals and in modern Catholicism is the patron saint of animals and ecology.
image: Saint Francis of Assisi, workshop of Rubens
Fell pony - one of the breeds used as campaign riding horse, or light cavalry during the Middle Ages.
This Waterford Kite Brooch is one of Ireland's finest pieces of late eleventh to early twelfth century. It is one of fourteen kite-shaped brooches found to date in Ireland.
The kite brooch is made of a hollow cast silver box and decorated with sumptuous gold filigree, impressed gold foil and amethyst-coloured cabochon (polished without being cut into facets) glass studs and niello (a black compound used in gold and silver work).
A detail of "The Beast Acheron" a medieval miniature made of tempera colors, gold leaf, gold paint, and ink on parchment.
In this miniature "The Beast Acheron," attributed to french artist, Simon Marmion, Valenciennes, 1475, Tondal's wandering soul observes the punishments meted out in Hell to the greedy. The illuminator has envisioned the entrance to Hell as the mouth of the beast Acheron, whose name derives from Greek mythology, referring to the river in Hades or Hell.
(Credit: AP Photo/Damian Dovarganes)

A skeleton stabbed with an iron rod to prevent it from rising from it's grave closely observed in a Bulgarian museum.
More about the story.
Illuminated elephants on parade.
1. From a herbal, Italy (Lombardy), c. 1440 
2. From a bestiary, England, between 1236 and c. 1250 (he looks so scared, poor soul)
More about medieval pachyderms here.
Horrible Histories cast to make Shakespeare movie
If you like your history with the foulest and funniest bits left in, get this: the people behind CBBC's Horrible Histories are making a new film, Bill.
It's a tale of murderous kings, spies, lost loves, and even includes a plot to blow up the Queen, Elizabeth I.
The people behind the film say they think the Bard would like the comedy "…apart from the bit where he's dressed as a tomato."